The commercial breaks during Super Bowl LII saw the premiere of trailers for the latest installments from the Jurassic Park and Mission Impossible franchises, as well as a first look at the long-discussed Han Solo movie. Alongside these blockbuster properties, audiences were given trailers for Amazon's upcoming Jack Ryan series, and the next installment in the surprise franchise of the decade, The Cloverfield: Paradox, which received a surprise drop on Netflix immediately following the game. Though we've come to expect these big trailer premieres from tentpole franchises during the notoriously expensive time slot, it was certainly less expected to see that kind of money spent by streaming services on far lower-profile properties. Though some (myself included) might consider themselves fans of Tom Clancy's Jack Ryan character, even the most diehard of fan wouldn't argue the character holds the same cultural value as, say, Han Solo.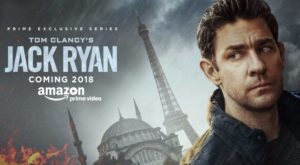 The case of Jack Ryan and The Cloverfield Paradox suggest that streaming services may be eager to market themselves as alternative distribution spaces for nascent or untapped franchisable properties. Netflix and Amazon have already positioned themselves as mini-studios willing to compete with the production value of premium television stations like HBO. For example, Amazon's recent hit series The Marvelous Mrs. Maisel shows off its budget. In every scene, as actress Rachel Brosnahan told Vanity Fair in a recent interview, "The set and surrounding areas are filled with extras milling about in period dress. One of my favorite parts about this show is the volume of background actors that we have used." The emphasis on world building frames Amazon as a space capable of handling larger scale cinematic productions. In the same vein, Properties like Jack Ryan and Cloverfield offer them the opportunity to develop relationships with film studios looking for new ways to exploit their branded properties in a crowded marketplace.
In her recent treatise on internet channels, which she refers to as portals, Amanda Lotz has argued that "substantial intellectual property has already become a necessity for launching a portal " (Lotz, 2016).  Disney's recent acquisitions have given them an advantage in a marketplace increasingly dominated by franchises built around well-known intellectual property. The recent Fox deal has not only strengthened their hold of the Marvel and Star Wars properties, but has also given them control over classic properties including Alien, Planet of the Apes, and the (still only theoretical) Avatar film series. Their control of these titles puts Disney in a position to shut out major competition at the box office. Additionally, this move will undoubtedly provide their impending streaming service with a catalog of films and TV series that will have a double effect on the marketplace by establishing them as viable competition and leaving competitors with fewer licensing options.
In this environment, partnerships between streaming services and the remaining movie studios will likely become increasingly important. To push back against Disney's virtual monopoly on the intellectual property market in the coming years, streaming services will need to develop strong catalogs of content consisting of branded properties viewers want, and studios will likely be looking for ways to circumvent traditional distribution strategies. Sony's recent success with Jumanji: Welcome to the Jungle suggests that studios might find success with lesser known properties with the right star power and release strategy. However, as the yearly release schedule becomes increasingly crowded by high profile properties owned by Disney, it will be hard to stand out the midst of Disney's incessant marketing storm. In the coming years, spaces like Amazon and Netflix could prove to be beneficial in the cultivation and expansion of smaller brands like Jumanji.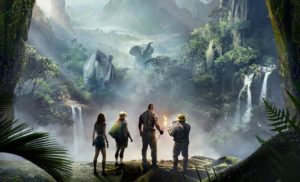 Streaming services provide the perfect space in which to develop more obscure properties into lucrative franchises without having to compete directly with Disney. For example, the Cloverfield franchise is slowly becoming a science/horror anthology brand. With three installments released and a fourth in the works, the series could prove to be a lucrative cinematic universe. Though the film may not have been a critical hit, it still garnered significant buzz for the brand and likely generated more views and revenue than a failed Box Office weekend may have. Similarly, as a property, Jack Ryan seems to exist in a state of perpetual reboot. Since Alec Baldwin portrayed the character in The Hunt for Red October, the character has been portrayed by Harrison Ford, Ben Affleck, and Chris Pine, each only finding modest success in the theaters. As films, people expected them to culminate in an action sequence, which usually involved some sort of contrived ending that conflicted with the characters central role as a CIA analyst. However, as Casey McCormick has suggested, streaming services work to shift viewers expectation about narrative resolution. With this in mind, Amazon could provide the creative freedom to develop the franchise outside of the pressures of traditional Hollywood marketing practices by allowing the character to evolve over the course of a series rather than needing to be defined in the span of one film.
Media industries scholars should pay close attention to the partnerships between major studios and streaming services, as they may shape the future of franchised properties. As the marketplace becomes dominated by several walled gardens of exclusive content, streaming services need to build libraries that generate lasting enthusiasm from subscribers. Though properties like Jack Ryan and Cloverfield may seem relatively obscure compared to Star Wars and Marvel, the future success of these streaming services might hinge on their ability to develop partnerships with film studios that give them access to future and past titles from these franchises. If Netflix could be the exclusive streaming distributor of all Cloverfield properties, and Amazon could instill some buzz around Jack Ryan, these services may not only survive but prove themselves to be essential distribution tools for studios in the battle against Disney.