Veteran documentary filmmaker Jennifer Fox's first narrative feature, The Tale, premiered at the Sundance Film Festival in January 2018. A fictionalized version of Fox's own experiences grappling with the memories and implications of her childhood sexual abuse, the film stars Laura Dern as Fox and received critical acclaim at the festival for its nuanced, highly personal representation of trauma. With an important social issue, a major star, and positive reception, The Tale quickly emerged as one of the most discussed films at Sundance. Buzzy titles like this are often purchased by theatrical distributors or streaming services before the festival's end, but The Tale was sold to HBO as a cable premiere that would not receive a theatrical release, in a surprising move for both the filmmakers and the cable network. While HBO has often premiered documentaries it produced or acquired other documentaries at Sundance, its acquisition of a narrative film like The Tale is unusual. Shortly after the announcement of the HBO sale, Variety critic Owen Gleiberman reacted in a column, questioning the effects of this decision after the film's Sundance reception, writing, "It sprung to life in the dark and became, over the course of one week, an event. It may get more eyeballs on HBO, but will it be an event there, or will it fade into the 24/7 wallpaper of programming?" While Gleiberman and many other commentators expressed surprise about the HBO sale and concerns about the impact of the film's platform, one detail from the acquisition report helped explain the value of the HBO partnership for the filmmakers: the planning of an outreach program around the film.
Like many documentaries, The Tale confronts important social issues, specifically the relationship between sexual abuse, trauma, and memory. The filmmaking team hoped to create an outreach campaign like those often accompanying documentary films, and HBO has extensive experience with such programs.[1] In a guest column for Deadline, Fox explains her plans for outreach with the film, noting that she and her producer "brought on strategic advisors, experts, and advocates in the fields of mental health, law, sexual abuse, health, and women/girls" and partnered with organizations like RAINN (Rape, Abuse & Incest National Network), Darkness to Light, It's on Us, Give an Hour, Joyful Heart Foundation, and Planned Parenthood. Working with these collaborators, Fox created a corpus of materials intended to offer support and generate discussion for viewers, whether watching in their homes or at public screenings. All of these materials are available through the film's website, which is linked on HBO's page for the film as an additional resource with the description, "Hear directly from the filmmaker and her mother, find resources if you're in need of support, or get details if you'd like to host your own discussion about The Tale." The list of resources is conventional for these outreach campaigns, and many of them also include discussion guides. But the explicit emphasis on encouraging viewers to host discussions is less typical, especially with resources to plan and facilitate small-group events. The film's website includes information about hosting a public screening or a "screening circle," with a link to a Google Drive folder of materials (if you sign up for emails from the filmmakers). This folder for screening hosts includes social media promotional materials, flyers, invitation forms, tips for "discussion circle hosts," a facilitator guide, and a viewer guide. Both guides provide detailed questions about many sections of the film, as well as lists of resources and collaborators. Through these resources, Fox and her team have attempted to take advantage of her experience with documentary production and HBO's experience with documentary distribution to encourage group screenings outside of a traditional theatrical context, giving viewers a defined process for driving conversations about a film with unsettling content and contemporary relevance.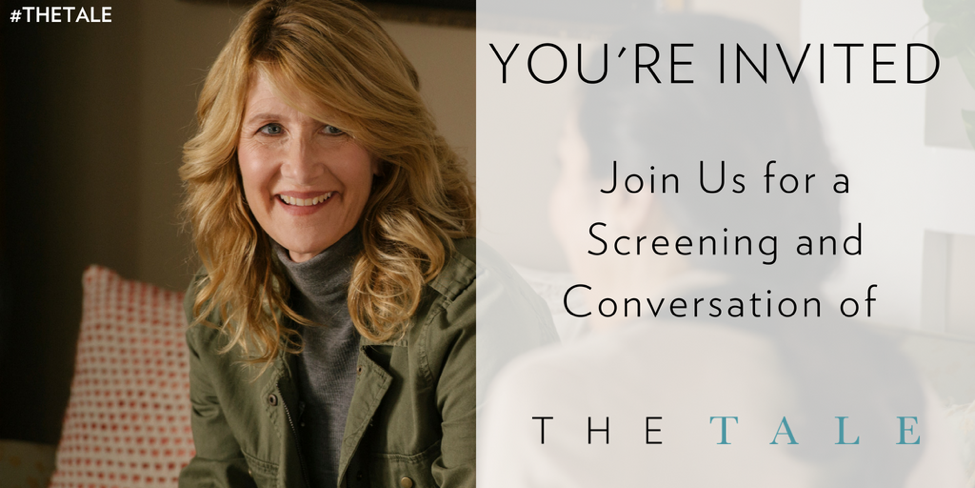 These practices of providing a list of resources and collaborating with subject experts and professional organizations are not new, but applying these practices to a narrative film instead of a documentary is unusual, as is the push for audience-planned engagement through small-group viewing and discussion. In the Deadline article, Fox writes, "I had a mission for The Tale that went beyond a simple moviegoing experience and included changing the way people see abuse and the conversation around it. In this way, I think The Tale fits into a new category of fiction, which I call issue-based-fiction, where we can use great narrative storytelling to change the world." While the success of her project remains to be seen, and the content of these resources should be considered and critiqued, Jennifer Fox and her team have presented a model for producing engagement and education around issue-based films, beyond only documentaries. The documentary industry has a long history of providing viewers with outreach materials to accompany films, but The Tale suggests the possibility of harnessing such resources for other types of media that connect with real-world issues.
[1] See one recent example in the resource list and screening guide accompanying Cries from Syria (Evgeny Afineevsky, 2017), a documentary purchased by HBO at the 2017 Sundance Film Festival: https://www.hbo.com/documentaries/cries-from-syria.