Peak TV, meet Peak Playback. Looking back on the chaotic landscape of television in 2019, the staff had a lot of opinions. So we're bringing back our yearly roundup of the year's best, worst, weirdest, most compelling, and culturally important TV! Each day this week, make sure to check back for a new category of blogs on the shows that excited, confounded, and inspired us all year long. Thanks to all our talented staff for their contributions, and to Matt St. John for organizing this series.
Day 2
Playback's Last Laughs: Comedy Gems

Lance St. Laurent, Leah Steuer, Anthony Twarog, Tom Welch, Zach Zahos, and Nate Mulder take a look at some of their favorite comedies from this year.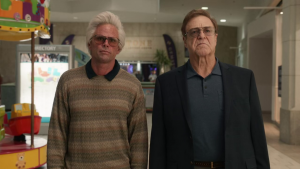 The Righteous Gemstones
Jody Hill is our chief chronicler of the travails of the white male American blowhard, and Danny McBride remains his pudgy, obstinate muse. The Righteous Gemstones marks a first for the pair, a genuine ensemble comedy, with memorable supporting turns from John Goodman, Walton Goggins, and especially the delightfully deranged Edi Patterson. Concerning the trials of a family of Falwell-esque televangelists, The Righteous Gemstones was one of the sharpest, funniest, and most well-observed comedies of the year, skewering the ultra-capitalist undergirding of American Protestantism without falling into cheap stereotypes of American Christian culture. Airing the same night and right after HBO's other ode to wealthy familial dysfunction, Succession, the Gemstones proved to be a fun house mirror reflection of that show's Roy clan, taking similar family and company dynamics to outlandish heights that Succession's prestige drama milieu couldn't quite stretch to accommodate. On top of that, the show also gave the world the anti-jam of the fall, the squeaky clean, clog-infused Christian bop "Misbehavin'." Praise the lord and Uncle Baby Billy for that ear worm. – Lance St. Laurent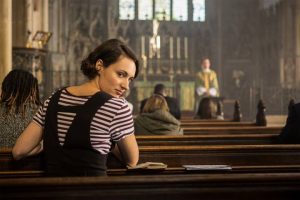 Fleabag
"Love is awful…it's all any of us want, and it's hell when we get there." This year we finally got a second (and final) series of Phoebe Waller-Bridge's wicked, brilliant, searingly honest Fleabag –and once we had it, it ravished us and left us for dead. PWB's auteurist experiment continued to explore female interiority, broken families, and the sheer anxiety of human interaction, but raised the stakes by introducing Andrew Scott's "Hot Priest," with whom Fleabag shares an electric, paradigm-shifting connection. The series hinges on one question: what does a fundamentally lonely person do when backed into a corner by love?
There's always been something distinctly exciting about Fleabag's visuality, particularly in the naughty, confidential relationship our heroine builds with the audience through her consistent breaks of the fourth wall. In fact, it's cinematographer Tony Miller who pulls off the series' most deliciously shocking payoff, when Hot Priest follows Fleabag's gaze directly into the camera; it's a lovely way to frame their intimacy and to comment on the discomfort of baring oneself to another human being (read more here on Miller's work on the series). These six episodes are endlessly rewatchable, so full of delights – from Sian Clifford's splendidly strained performance as Claire, to a creepy teenage bassoonist (it's a cry for help!), to a script more cuttingly funny than ever. The series ends on a note that's both devastated and hopeful, reflecting (as always) the bittersweet condition of being alive. So grab the night by its nipples, okay? And go flirt with someone. – Leah Steuer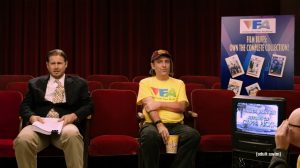 On Cinema
For eight years and 11 seasons running, the darkly comic minds of Tim Heidecker and Gregg Turkington have grown their bone-dry web series into the most unlikely transmedia franchise. What started as a parody of clueless male film critics (Heidecker and Turkington play fictional versions of themselves) has evolved into a covertly ambitious, all-American satire lampooning right-wing politics, the anti-vaccination movement, celebrity trials, vaping, and VR. In October, the On Cinema universe finally expanded into film itself with Mister America, a feature-length mockumentary of "Tim Heidecker's" crash-and-burn run for San Bernardino District Attorney. On Twitter, Heidecker and Turkington attack one another and stoke the (hopefully!) all-in-good-fun divisions between fans who identify as "TimHeads" versus "GreggHeads." So many accoutrements for what is still, at the end of the day, an outrageously funny web series produced by Adult Swim with 11 to 16 minute episodes. While still finding time for uniformly fawning movie reviews (with the exception of Mister America, which of course they covered), Season 11 saw "Tim" reclaim ownership of the "On Cinema" brand, fall into debt, get really into guns, marry his campaign manager, and nearly kill himself while cleaning his shotgun. Meanwhile, fan favorite "Gregg" spun a home media division out of his famed Victorville Film Archive (essentially a bunch of old VHS tapes in his car) that violated copyright law and led to his friend's imprisonment and (second!) coma. Teeming with soap opera twists, On Cinema at the Cinema adapts with each season into an ever more ridiculous and honest reflection of the culture. – Zach Zahos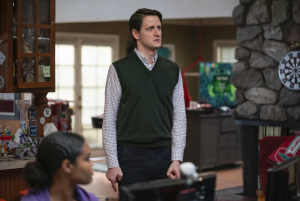 Silicon Valley
As Silicon Valley folds up its wearable chairs and sidelines its female characters for the last time, I'd like to take this opportunity to bid farewell to Donald "Jared" Dunn (series standout Zach Woods), the gangly Head of Business Development who stood by would-be tech disruptor Richard Hendricks through six seasons of ups and downs (and ups and down, and ups and downs, and so on). He might have been misdiagnosed with a wasting disease, but within his slender frame was the heart of a lion. He always knew when to pivot, he always prioritized hoes behind his bros ("it's sexist but it's about friendship"), and he always had an appropriate Julia Roberts reference at the ready. This season, Jared went through a lot, to say the least: he met his biological parents, he confronted his unhealthy dependency on demanding work environments for self-fulfillment, and then he regressed back into that dependency. But, through it all, he's remained one of the funniest, most lovable supporting characters on television. – Anthony Twarog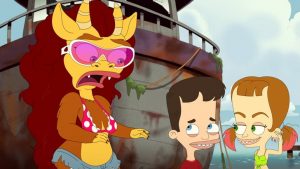 Big Mouth
I love Big Mouth. I love this weird, often disgusting show about horny pubescents. The Right has often been seen as having a monopoly on "edgy humor," but the dirtbag left is coming in strong in this show. The left may finally be getting its satire game back. It got some flak for a perhaps poorly phrased introduction to pansexuality, but that character (played by Ali Wong) ended up being much more three-dimensional in the end. And who can deny the incredible voice acting of Nick Kroll and Maya Rudolph as the personifications of teenage hormones. Not to mention the sexy sexy Duke Ellington biopic episode. – Tom Welch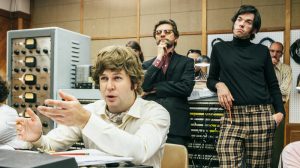 Documentary Now
To call Documentary Now! a parody show feels like a disservice to its achievements. Its commitment to the bit borders on obsessive and its recreations of various documentary styles are rigorous enough that the show warrants consideration not just as a piece of comedy and entertainment, but as film criticism and historiography in a visual medium. When I watch it, I feel like it was made for only me and maybe a few dozen other nerds, so the fact that it made it to season 3 this year feels like a small miracle. Due to other commitments, season 3 saw the loss of Bill Hader as one of the main performers, so in his absence, the show relied more on guest stars to fill out its roster. The biggest casting coup of the year was undoubtedly Cate Blanchett, channeling Marina Abramovic for an uproarious take on the modern art word in "Waiting for the Artist." But for my money, the highlight of the season was "Original Cast Album: Co-Op," a pitch-perfect take on D.A. Pennebaker's Company documentary. Between the hilarious original songs, the splendidly realized 1970s aesthetic, and John Mulaney doing his best Stephen Sondheim impression, this episode was a perfect encapsulation of everything the show does well. – Lance St. Laurent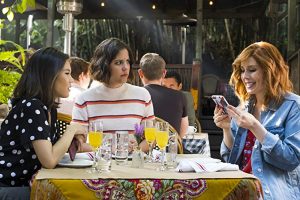 I Think You Should Leave
I Think You Should Leave stands out for me this year. The characters created by Tim Robinson and friends are wacky, delusional, odd, pathetic—and right on the mark. With episodes solely comprised of sketches, this is everything Saturday Night Live should be. In one standout sketch, Vanessa Bayer struggles to find the right caption for an Instagram post of her brunch with friends. Her two brunch mates have already posted photos with ironic captions, explaining that "when you post a pic of yourself where you look really cute, you have to say something self-deprecating so it doesn't look like you're just bragging." Bayer, trying (unsuccessfully) to match their tone in her own post, launches into a string of bizarre, horrific, and hilarious insults. A nightmarish birthday party, a date who eats all the nachos, a Herbie Hancock celebration event, back relief pills which gives a middle age man the guts to confront the record producer scamming him into thinking he will one day make a hit song all round out gaffs which will leave you wishing the season was longer than seven brief episodes. – Nate Mulder