Peak TV, meet Peak Playback. Looking back on the chaotic landscape of television in 2019, the staff had a lot of opinions. So we're bringing back our yearly roundup of the year's best, worst, weirdest, most compelling, and culturally important TV! Each day this week, make sure to check back for a new category of blogs on the shows that excited, confounded, and inspired us all year long. Thanks to all our talented staff for their contributions, and to Matt St. John for organizing this series.
Day 3
The Real Housewives of Playback: Reality and Competition Series

Jackie Land, Ceci Moffett, Lesley Stevenson, Tom Welch, Lauren Wilks, and Taylore Woodhouse discuss the reality, docu-series and competition shows that kept them talking this year.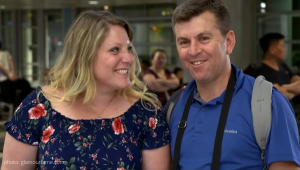 90 Day Fiancé
90 Day Fiancé is a veritable TV juggernaut. With seven seasons under its belt and six (!!) spin-off series, any viewer of TLC cannot fail to notice that the channel has found its new favorite cash cow in the wacky stories of international couples. No matter how wholesome you think a couple's story will be, their relationship is sure to become a trash fire in a matter of minutes. My current favorite are Anna and Mursel, a pair of middle-aged beekeepers who met online thanks to their shared hobby. I wondered what could possibly go wrong, but when it is revealed that Mursel, who is from Turkey, cannot speak any English and the couple must communicate solely through Google Translate, it became clear that nothing sweet was in store for these honey enthusiasts. It makes no sense that these two, or really any of the couples featured on the show, would choose to get married, but perhaps their biggest flaw in judgement was allowing TLC to meddle in their already flimsy relationships. Regardless of how entertaining the couples are, the real joy of the 90DF universe is its subreddit. Forget live-tweeting; live-redditing is the new way to watch TV. While Reddit may have a negative reputation for being home to alt-righters and incels, its reality TV subreddits are often welcoming spaces for discussion, speculation, and data collection. Trust me, you aren't really watching 90 Day Fiancé (or The Bachelor or RuPaul's Drag Race) until you've also integrated yourself into the show's Reddit community. Although there may be little educational value in The Learning Channel's biggest franchise, there is much to be learned about international love, the United States immigration system, and reality TV manipulation in r/90DayFiance. I'll end with the subreddit's pitch for jumping into the garbage dump that is the 90DF-verse: come to learn about the K1 visa process, stay to be frauded by TLC. – Taylore Woodhouse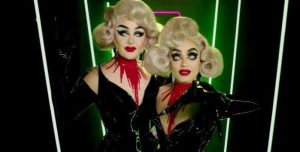 Dragula
In season 4 of RuPaul's Drag Race, Phi Phi O'Hara infamously told Sharon Needles to "go back to Party City where you belong!"—a shot heard round the world for queer goblins everywhere. The feuds between alternative, artsy, and unconventional drag queens and the glamour/pageant queens who have competed on the show since have often felt like a battle for RPDR's soul – its aesthetic, its brand, its legacy. This divide is not just about who wins and who loses from season to season, but it has also been a forum for debating the politics of drag itself and what it means today. Many have noted how RuPaul's Drag Race has changed the game for every drag performer working today, creating a new market for drag performers and bringing unprecedented visibility to drag in the mainstream. But some feel that this new landscape has brought negative consequences, specifically that drag has lost its edge. Enter The Boulet Brothers' Dragula, a show owing its existence to the decades of performers who have found home and community in the avant-garde/underground and filthy underbelly of drag. The show triumphs the core values of "horror, filth, and glamour" at every turn as it seeks to find the "world's next Supermonster." For longtime fans of RPDR, it can be hard to watch Dragula at first, made with a lower budget and production quality, not to mention its commitment to grossing you out at least once every episode. But in ways both subtle and bold, it offers a strong critique and alternative to the mainstream, commodified image of drag. For instance, at the start of each judging deliberation, the Boulet Brothers remind the contestants, "We are not here to judge your drag. Drag is art and art is subjective. What we are judging you on is your drag as it relates to this competition." Not to mention, the Boulet Brothers have brought in a wide range of drag performers including bearded queens, genderfuck performers, trans and nonbinary performers, and drag kings. While I recommend going back to season 1, it really hits its stride in season 3 (now streaming on Netflix) so it's definitely a good place to start! – Jackie Land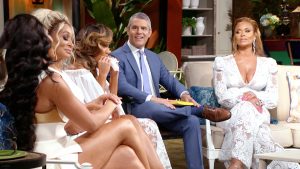 The Real Housewives of Potomac
Summer 2019 provided one of the most compelling seasons of The Real Housewives of Potomac yet. As we entered its fourth season and the 13th year of the Real Housewives franchise, amidst the cultural reckoning that has been mounting for a while but became mainstream with #MeToo and #TimesUp, RHOP underwent a shift. The first rule of Housewives is never to acknowledge that you're on Housewives, but the ladies of RHOP experienced a confluence of factors culminating in one of the most overt displays of fourth wall-breaking in franchise history.
Usually, the cast waits until reunion episodes to provide behind-the-scenes insights about each season, but due to controversy around Michael Darby, one of the cast member's husbands, RHOP's mounting tensions forced earlier meta-commentary. At first, other leads talked about his history of inappropriate behavior without talking directly about a key transgression—instead focusing on his tendency to flirt with their husbands—until news broke during filming about Michael sexually harassing an RHOP crew member. Tensions escalated as cast member Ashley continued defending her husband, until mid-season. In a satisfyingly edited segment, the screen cut to a black title card that read simply, "Unseen Production Footage," and proceeded to air said footage, essentially corroborating the crew member's allegations. Instead of handling the controversy as privately as possible, the production team made a decision to publicly substantiate the claims of a victim of harassment. In short, RHOP dabbles in the groundbreaking by creating space for continuously evolving conversations about sexual harassment and assault while also staying committed to ramping up the camp. – Lauren Wilks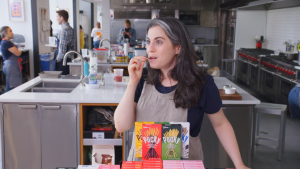 Gourmet Makes
Now, what I'm not going to do is debate whether or not Bon Appétit's YouTube series Gourmet Makes counts as television – in the strictest sense, of course it doesn't, but what it lacks in network affiliation it more than makes up for in continuity, dramatic tension, and darlings. Claire Saffitz, "Half-Sour" herself, painstakingly recreated twenty-two of our most beloved junk food treats this year, often drawing on the knowledge and failures of past episodes with much more grace than your standard TV procedural.
Aside from her mesmerizing salt-and-pepper hair, one of the things I adore most about Claire and her series is the intense methodology. I don't typically have the patience to measure out the milk for a box of macaroni and cheese, but Claire grinds through her recipes gram-by-gram, putting both my lazy measuring and my research to shame. There's something intensely satisfying about watching someone build Pocky from the ground up, but the combination of Claire's attention to detail and the masterful editing of the show make Gourmet Makes one of my most-watched series of 2019, platform notwithstanding. Bon Appétit is giving TV a run for its money in the championable characters department, and Claire is absolutely the manic pastry dream girl of, well, my dreams. – Ceci Moffett
Dancing with the Stars
This year's iteration of the most vacant show on television claimed a bit of cultural relevancy by casting Sean Spicer, former White House Press Secretary. In its 28th season, Dancing With the Stars answered the question of how it could continue finding "stars" by granting a disgraced political figure the title of celebrity. Spicer's extended stint in the dancing competition perplexed viewers who noticed his total inability to keep rhythm or perform dance moves more complicated than a shuffle and clap. As Spicer continued to be saved by votes from Republican viewers, it became clear that even our silliest dancing TV shows could be platforms for political action. Tragically for Spicer, he lost his biggest fan after he was finally kicked off the show; Donald Trump deleted his tweets encouraging followers to vote for Spicer and praising his former employee's dancing ability once he was eliminated. Of course, all this focus on Spicer is a bit unfair to the competitors who showed real talent: James Van Der Beek, Ally Brooke, Kel Mitchell, and Hannah Brown all displayed skills worthy of the title of "celebrity who is competent at dancing." As a member of Bachelor Nation, I loved seeing Brown claim the crystal ball. That being said, Van Der Beek was the best dancer of the season and his surprise elimination was unfair and unjust. Thankfully, I can rest easy knowing that he, and all other contestants, will be just fine without winning a pointless dancing competition. – Taylore Woodhouse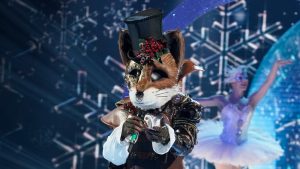 The Masked Singer
With its finale on December 18, FOX's The Masked Singer revealed its winner to be… us, all of us who watched with admiration, consternation, horror, and joy at this dystopian singing contest featuring the most frightfully elaborate costumes ever imagined on legendary singers, an Olympic athlete, an NBA all-star, and not one but two Cheetah Girls. In its sophomore season, the show grew its field and with it, my intrigue. Is the game about talent? Yes, but it's also about identity, mystery, and performativity. A fourth-place finisher on American Idol has no business beating Grammy award-winning legend Patti LaBelle — but by Episode 8, everyone recognized LaBelle's iconic voice. As it was, the three finalists proved to be singers in their own right whose talents have gone overlooked as their careers and personal lives evolved. Therein lies the beauty of The Masked Singer — it genuinely gives artists a chance to show off and try out new styles. As "The Ladybug" said in the finale, the costumes strip singers of their identities, down to the gestures and quirks that make them who they are. The masks, as hauntingly larger-than-life as they may be, offer a real chance for experimentation, often resulting in unexpected covers of familiar songs, such as a stripped-down version of "Blame It" from the ultimate winner, "The Fox." The show itself even stepped out of its comfort zone, with another Grammy award-winning (male) contestant adopting a borderline dominatrix personality as a gender-bent "Leopard." Lean into the weird. The more you do, the more you find that The Masked Singer offers a truly joyful hour of TV. – Lesley Stevenson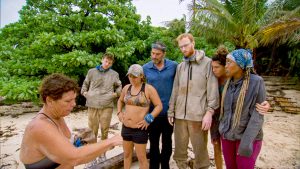 Survivor
When I volunteered to write on my very first season watching Survivor this year, I didn't think that it was going to end with one of the largest scandals in the history of the show. I was supposed to write about fan editing logics and metagaming. In case you missed it, contestant Dan Spiro repeatedly touched multiple female contestants inappropriately, especially Kellee Kim who asked Spiro to stop multiple times. The real lesson of the inappropriate touching incident was not only that TV production will always do a terrible job at managing and discussing these kinds of incidents (looking at you Bachelor in Paradise), but also that Survivor as a system is incapable of addressing the real sociopathy of individuals as a separate function from gameplay. How can you punish someone who is "just playing a game?" This is not the first time in recent history a survivor contestant has gone too far, either. Season 33 had a terrible moment where a castaway was outed as being trans, specifically in an attempt to prove that he wasn't trustworthy. At any rate, in a season of Survivor that was meant to showcase #metoo and the power of women, it is no surprise that we ended up with a completely bland straight white male winner in the form of Tommy. – Tom Welch