Peak TV, meet Peak Playback. Looking back on the chaotic landscape of television in 2019, the staff had a lot of opinions. So we're bringing back our yearly roundup of the year's best, worst, weirdest, most compelling, and culturally important TV! Each day this week, make sure to check back for a new category of blogs on the shows that excited, confounded, and inspired us all year long. Thanks to all our talented staff for their contributions, and to Matt St. John for organizing this series.
Day 4
Netflix and Its Neighbors: Highlights and Hidden Gems from Streaming Services

Nicholas Benson, Jackie Land, Jacob Mertens, Ceci Moffett, Austin Morris, Olivia Riley, and Matt St. John take a look at some of their favorite programs from streaming services.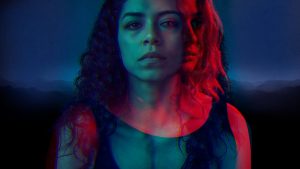 Chambers
If you're looking for a quick and creepy post-holiday binge, consider Netflix's ten-episode original series Chambers. Released on April 26, 2019, Chambers is a supernatural thriller that follows Navajo teenager Sasha Yazzie who, after having an emergency heart transplant, begins to have mysterious and eerie visions related to the murder of her heart donor. The show quickly garnered supporters and fans as an innovative horror with groundbreaking Indigenous representation. As many Indigenous news outlets like Indian Country Today and Native News Online publicized, it was the first series ever to cast a Native actress, Sivan Alyra Rose (San Carlos Apache) in a leading role. The show also credited other Native talent in major roles, including actors Marcus Lavoi (Chippewa) and Griffin Powell Arcand (Plains Cree), Sydney Freeland (Navajo) who directed episode 6, and Jason Gavin (Blackfeet) wrote the script for episode 7. Upon its release, many Indigenous fans shared their excitement and pleasure in this representation on social media. However, despite the enthusiasm amongst Indigenous fans and reporters, on June 18, 2019, Netflix announced that the show would not return for a second season. Online reporters speculated that the cancellation was due to its poor reception by critics and low viewer ratings on Netflix.
Here's the thing about Chambers – it IS a weird, weird show, fully at home in the teen sci-fi/horror television genre. It sets out to put nuanced Indigenous characters at the center of the always overly melodramatic mode of YA televisual storytelling, and it achieves that at every level. Complement your viewing by exploring the #SaveChambers hashtag campaign on Twitter, filled with testimonials about what the show meant to them. A group of fans also started a campaign group @RenewChambers, circulating a petition on Change.org to renew the show for a second season.  Over the last 6 months, this group has attempted to stage multiple "stream-ins," or mass binge watches of the show, to get the viewer numbers up in hopes of convincing Netflix to reconsider. Taking the fan backlash alongside the truly bonkers and disturbing content on screen, the show is a compelling case study on the politics of visibility and inclusion in the new television landscape that is worth your time and consideration. – Jackie Land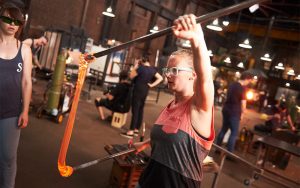 Blown Away
I have fond memories of Bravo's Work of Art (2010-11), produced by Sarah Jessica Parker, which pitted artists from various disciplines in a Project Runway or Top Chef style competition between one another for a solo museum exhibition and a cash prize. Much of that show's interest in revealing the work of art is also on display in Blown Away, an incredibly serious competition show about glassblowing. Glassblowing is itself seriously intense—hot, physical, sweaty, dangerous—and some commentary I've read about the show seems to misread the repetitive, methodical nature of glassblowing labor as zen viewing. Perhaps I'm simply predisposed to anxiety (definitely true), but I found it impossible not to be gripped by what was happening on my screen. There is nothing zen about a glasswork being thisclose to shattering onto the floor of the shop. Wielding primal elements of earth and fire in order to create something referencing pop art, creating a working lighting fixture, or reinventing the wine decanter are thoroughly engrossing. Meanwhile, contestants imbue their glassworks with heady, urgent ideas about climate change, class conflict, personal loss, and feminism. As in the other craft-based reality competition shows that established the genre, the intimacy between art and artist, as well as the inherent drama of the artist confronting the gap between their ambition and their ability, provide the hook. The simplicity of the show's aesthetics, combined with an excellent cast, will have its hooks in you quickly, and keep you closely invested through its satisfying finale. – Austin Morris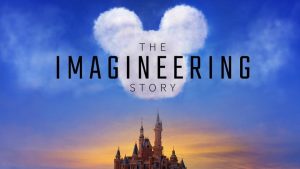 The Imagineering Story
Recently, Martin Scorsese raised the question, are Marvel movies cinema or theme park attractions? While the internet debated this, the series The Imagineering Story debuted on Disney+ and raises far more interesting questions, in my mind, about the artistic value of theme parks and their relationship to cinematic storytelling.
The series follows the history of Walt Disney Imagineering, the research and development segment of the Walt Disney Company responsible for producing theme parks and related attractions. It begins with the company's creation by an eccentric Walt Disney and follows it through its many ups and downs. Directed by Leslie Iwerks (The Pixar Story (2007)), whose grandfather co-created Mickey Mouse, the series offers glimpses behind the scenes that may be new to even aficionados. While Angela Bassett offers an inviting and neutral narration throughout the episodes, much of the narrative comes from recent and archival interviews with current and former Imagineers who discuss the development of several iconic attractions.
It is this personal touch that gives the series its resonance. Even the harshest of cynics might shed a tear when Bob Gurr recalls the atmosphere in Disneyland the day after Walt Disney died or when Daniel Jue, a creative executive at Tokyo Disneyland, recounts what it was like watching the people of Japan find joy in the park months after the country was devastated by an earthquake. Is this promotional park propaganda? Sure. But throughout the series, it's hard to be completely unmoved by the seemingly genuine investment these artists, engineers, and storytellers have in creating an immersive and emotionally engaging experience for spectators. Although it might not be the same kind of emotional experience one has when watching a digitally de-aged De Niro, the series makes an argument for a closer investigation into the cultural significance of this kind of experiential storytelling. Ultimately, The Imagineering Story raises a more provocative question than Scorsese's: are theme parks cinema? – Nicholas Benson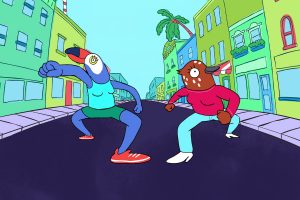 Tuca and Bertie
Rather than simply being a celebration of outstanding adult animation, this is a funeral dirge. Tuca and Bertie was one of the most heartfelt things I've watched in a very long time. Cartoons are my life's blood, and this show fulfilled me in a way that I didn't know adult animation could. The surreal, anthropomorphic women's bodies were visceral. They talked about peeing! And sex! And the horrible phantoms of trauma! Rarely do I see even live-action TV be so frank with its depictions of female interiority. Tuca and Bertie moved beyond the masculine nihilism of its spiritual predecessor Bojack Horseman and unpacked the everyday aggressions that can make women's lives so difficult – and did so with a voice acting cast made predominantly of people of color.
This show spoke to my millennial soul in a way that no other adult animation this year has, but it was announced over the summer that Netflix wouldn't be renewing the show. While there's rumors of creator Lisa Hanawalt looking elsewhere for support, there's no news yet of what will become of this technicolor gem. And there's no way for us to interpret the cause of this loss – Netflix's ratings and overall viewing statistics are impossible to uncover, and we can only rely on what the streaming giant tells us, which has been precious little. – Ceci Moffett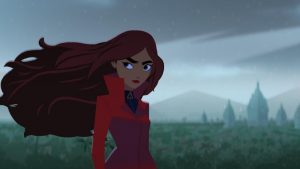 Carmen Sandiego
When I was in middle school, I had a class solely dedicated to learning this newfangled technology called a computer. I spent the first few weeks practicing how to type and the rest of the year I played games like Oregon Trail and Carmen Sandiego on a floppy disc drive. Admittedly, the class was perhaps not the best use of public education resources, but I certainly didn't mind at the time and look back on these games with great affection. I also realize games like Carmen Sandiego achieved something my classes never did at the time—it gave me a reason to care about learning. And it's easy to overlook the change that's taken place with children's media when watching Netflix's Carmen Sandiego adaptation, which offers audiences well-paced espionage capers and gorgeous art design animation. More than anything, Sandiego offers the kind of show that both children and parents can enjoy, a growing trend in children's media that is not mutually exclusive to shows providing an enticing framework for learning but does marks a distinct shift in priorities. In truth, I hadn't even thought about the difference until the show started paying homage to the game's condensed history and geography lessons to help frame new heists. In these moments, I was able to remember what made me so fond of the games I played when I was younger, but I also saw how they operated almost solely as a nostalgic aside amidst the action. Somehow, the show's throwback warmed me and made a little sad all at once. – Jacob Mertens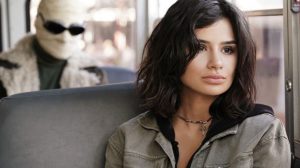 Doom Patrol
Doom Patrol gives viewers everything they want to see and everything they never imagined they'd want to see (and debatably, many things they wish they could now un-see). From living it up at a drag queen karaoke bar to fighting a giant rat while trapped inside a painting, Doom Patrol makes skillful usage of the superhero medium's affordances to tell stories that range from politically incisive to gleefully batshit.
Big name draws like Brendan Frasier, Timothy Dalton, Matt Bomer, and Alan Tudyk deliver excellent performances as a big sad robot man, a shady scientist and father-figure, an immortal gay disaster pilot slash host to weird space energy being, and nightmarish omnipotent fanboy supervillain, respectively. Some of the show's most emotionally powerful work, however, comes from the more diverse remainder of the cast. Doom Patrol uses April Bowlby's Rita Farr, an ex-Hollywood starlet and part-time pool of sludge, to tell stories of navigating gender, harassment, and bodily normativity in a heartfelt and delightfully grotesque manner. Diane Guerrero's "Crazy Jane," with her dozens of alternate personalities and concurrent superpowers, works through a history of abuse and trust issues, providing a focal point for the show's themes of found family and learning to cope with trauma.
From blowing up a Nazi puppet show to narrowly escaping an army of carnivorous butts to barely surviving group therapy, the Doom Patrol squad are an indecent, absurd, and unpredictable bunch, but the show is a taste worth acquiring. – Olivia Riley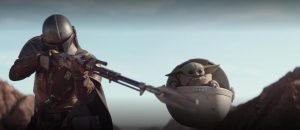 The Mandalorian
With The Mandalorian, Disney just might have achieved a feat worthy of recognition in the archives of the Jedi Order: they've produced a Star Wars property that seems equally appealing to both general audiences and the loudest segments of the franchise's notoriously… demanding fanbase. Whether showrunner Jon Favreau can maintain the momentum (and memes) generated by the central odd couple remains to be seen. Even though the galaxy far, far away is enormous, a few episodes of the Disney+ series have verged on rehashes of plotlines seen multiple times on Rebels or The Clone Wars, and the Mandalorian and "The Child"—the understandably ignored official title for Baby Yoda—could easily be dismissed as little more than calculated remixes of old fan favorites. But every time I slide toward that less enthusiastic perspective on this diverting, visually impressive adventure series, my critical faculties are swiftly Force-choked into oblivion by Baby Yoda's coos. As long as he toddles along, I'll keep watching, and fortunately he's aging very slowly. – Matt St. John